Android has earned a name of having the most exhaustive mobile application with its Google play store. It is almost a unique selling point for many android gears. Literally a play store that lets you meddle with the innumerable apps and download the best based on it reviews. Having said that, how about giving you a choice between some of the most recent apps that have climbed the charts with its neat design and efficiency. So here are some of the best apps for your Android gear. These apps have a significant relevance; they are all trying to make a difference. Check them out and tell us which one you would install on your gears.
This is a one of a kind application, and a small step to curb child trafficking. All you need to do is download the app and take pictures of kids who beg on streets or even working in an obscure eatery and then the app matches the clicked image with its database and shares if anything vita comes across with NGOs who are working towards this cause.
This amazing app though still in its initial stages notifies you whenever the battery on any of your nifty gadgets is close to depletion. And the surprise does not cease only with one function, it also lets you remotely disable your wifi and Bluetooth through your phone. This app is a great idea but it is still in its early development so you might face some issues but gets updated quite frequently.
How any times have a come across an unknown word on e books and how many times have you ignored the same because you do not want to go back and Google the meaning to interrupt the flow? Well with the word snitch you can now enjoy reading an e-book and also learn the meanings of such word without closing the page. All you have to do is copy the word from any application and you get its meaning there itself. Gone are the days when you had to open the dictionary to learn the meaning of new words.
Want to get back in shape? Then take baby steps towards the aim with the 7 minute workout app. It now supports Google Fit and its 12 exercises for 30 seconds each with a 10 second recess between each exercise is an excellent way to start your journey to remain fit. This quick fix programme is based on high intensity circuit training and is a great way to lose weight and shape your body. Replete with video tutorials, it is an easy to use app for all those who are for fitness.
Are you into star gazing and want to know all about the twinkling stars that lit up the night sky then all you need to do is download this app and point the sky and you get the details of the realm out there. This app uses GPS and internal compass along with current date and time to educate about what celestial objects are there around us. All you need to do is point it to the sky.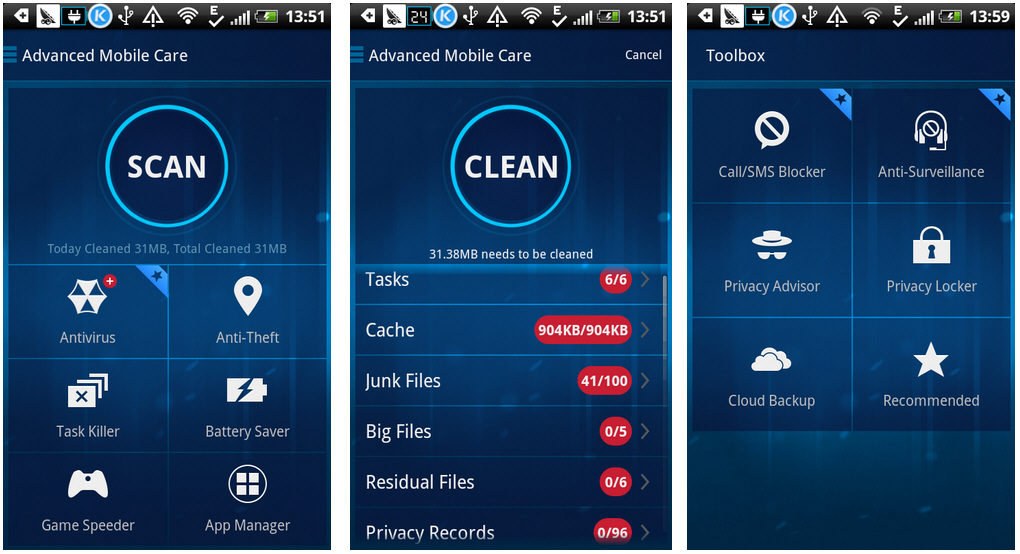 This free antivirus app is light, does not eat up into your phone's memory space, and is quite swift. Designed with an antivirus scanner and a mobile security manager it protects your Smartphones against viruses and fragile apps, which are prone to virus attacks. This keeps your system clean and threat free and it gets frequently updated to keep abreast with latest threats and viruses.
Extravelmoney is a fast and a secure way to transfer money and fix foreign exchange rates from the comfort of your home. This app makes it simple to buy and sell foreign exchange through Reserve bank of India approved authorized dealers. Once you are on the app you can check which dealer offers the best rate and transfer the money online to seal the deal. This an amazing app for people who are constantly travelling across countries on work, it is simple and secure.
To make a difference with these apps, you will have to keep your phone charged at all times, and we all know how difficult that is with a Smart phone which looses out battery charge superfast because of its computing capabilities. We all lead very busy lives and are constantly on the go, so why not keep a power bank that will provide uninterrupted power supply not only to your Smart Phones but also to your tablets.